We are excited to announce our participation in Culture Days, a community-driven celebration of arts, culture, and heritage.
This year, Culture Days will take place from September 22 to October 15, and we are inviting people to represent their own countries and showcase their cultural heritage. We are collaborating with Southeast Newcomers and SWIS to support individuals who would like to participate and contribute their ideas.
If you would like to get involved and share your culture, please contact SNS or SWIS to learn more about how we can support you.
Stay tuned for more updates on our events page!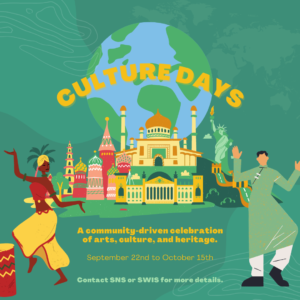 SWIS Contact
Estevan Office
Settlement Workers In Schools
Phone: (306) 471-8191
Fax: (306) 637-3826
Email: aimee.swis@sasktel.net
Weyburn Office
Settlement Workers In Schools
Phone: (306) 861-7363
Fax: (306) 842-0205
Email: weyburn.swis@sasktel.net