Integrating Newcomers with Volunteer Opportunities to add Leadership Value through Education (INVOLVE)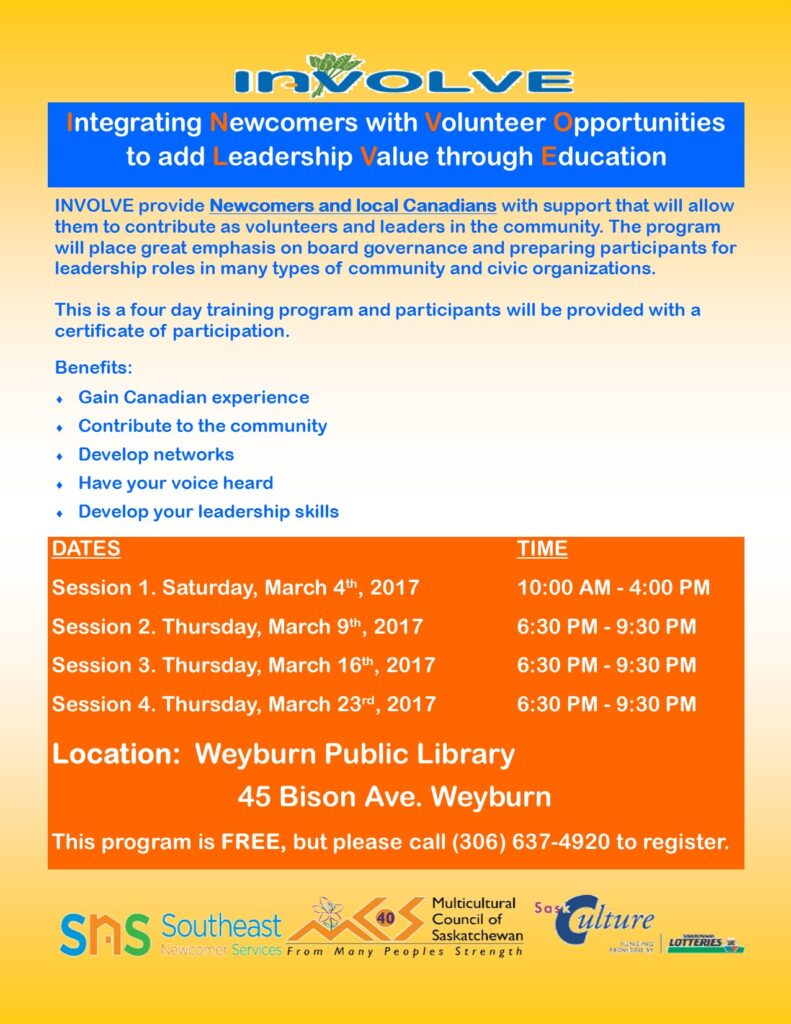 Integrating Newcomers with Volunteer Opportunities to add Leadership Value through Education (INVOLVE)
INVOLVE is being offered through Southeast Newcomer Services in partnership with the Multicultural Council of Saskatchewan (MCoS), and SaskCulture. The program was originally design to help facilitate the successful integration of newcomers. The objective is to support newcomers to become equal participants in all the various dimensions of society including the local cultural, economic, social and civic/political systems, while preserving cultural identity; integration includes community welcome and recognition of contributions of all members, and reflection of all people and cultures in organizations, institutions, businesses and personal relationships. Integration results in a sense of belonging.
INVOLVE will be ideal for Newcomers and local Canadians alike, who are seeking information to get involved as volunteers and leaders. The program will place great emphasis on board governance and preparing participants for leadership roles in many types of community and civic organizations
INVOLVE is truly a program in which everyone benefits.
Participants:
Gain Canadian Experience
Contribute to the community
Develop networks and establish community connections
Learn to have their voices heard
Develop leadership skills
Community organizations:
Gain new perspectives
Learn from someone with experience as a newcomer, so they can better serve everyone in appropriate and accessible ways
Increase their volunteer base for the present and future
INVOLVE will be completed over a series of interactive learning sessions by a trained facilitator.
DATES                                                                                                              TIME
Session 1. Saturday, March 4th, 2017                                                  10:00 AM – 4:00 PM
Session 2. Thursday, March 9th, 2017                                                  6:30 PM – 9:30 PM
Session 3. Thursday, March 16th, 2017                                                6:30 PM – 9:30 PM
Session 4. Thursday, March 23rd, 2017                                                6:30 PM – 9:30 PM
LOCATION: Weyburn Public Library – 45 Bison Ave. Weyburn
Note: This program is FREE! Refreshments and lunch will be provided at no charge.
There will be a certificate of participation provided to individuals who complete the program in its entirety. For further information and to register please contact our office at (306) 637-4920 or jhaldair.newcomerserv@sasktel.net. Get INVOLVEd!